Thank you for requesting a complimentary consultation! 
You'll receive a confirmation message soon – it's probably already in your inbox.
If you do not find this message immediately, please check your junk box.
We know your time is valuable. Spend a few minutes with us and discover how membership protects what's important to good medical practice – and does away with what's detrimental…
---
Protection Plans
Medical Justice is offered across the country and includes a tiered array of plans ranging from prospective (future-events) to historical (prior-events), as well as solutions for open medical malpractice lawsuits and reputation protection. It is important to choose the type of coverage that best fits your practice's needs.
---
---
Physician's Shield
This is the core prospective program that deals with medico-legal issues that arise from medical events that may occur in the future.
---
Add-on Coverages:
Add-on coverages include all features of the Physician's Shield coverage…
---
---
Online Reputation Management
---
eMerit
Summary:
You focus on your patients, we'll focus on your online reputation so you can grow your practice.
Recent research shows that 61% of patients perform web searches for health information.1 eMerit ensures that current and prospective patients get a complete picture when they read about you online.
Medical Justice has been relentlessly committed to protecting doctors' reputations and practices for more than a decade, so we understand the key issues and the regulations when it comes to doing so online. Now we're offering eMerit, a new reputation management service designed for doctors, by doctors.
Benefits:
eMerit offers a comprehensive suite of features for managing your presence and promoting your practice online.
Help build your business and enhance your reputation on the Internet…

Keep watch over mentions of your name within doctor rating sites and search engines…

Strengthen the doctor-patient relationship and communication loop…
1 – Pew Research Center, Pew Internet & American Life Project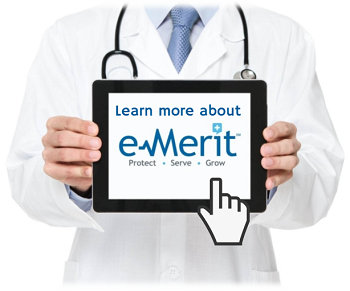 ---
---
Protection
Protection against frivolous lawsuits and damage to your good name
Approximately 85% of intent-to-sue notifications that Medical Justice members face are dismissed before escalating to lawsuit status.*
Medical Justice makes your practice's protection complete. We work tirelessly to neutralize frivolous lawsuits quickly with the goal of reducing your overall risk of legal claims. After all, prevention is always preferable to a painful cure. For those lawsuits not halted, we're with you for the long haul. What's more, we offer the most complete suite of services dedicated to managing your online reputation – completing the sphere of protection for your practice.
*Ohio and California data
Leadership
Leadership to address the specific medico-legal issues physicians face
At any moment, there are up to 60,000 open medical malpractice cases – though four out of five are deemed to have no merit.
As the proven leader in medico-legal issues for doctors, we're the first call our members make when a question or problem arises. Founded by doctors exclusively for fellow doctors, we've been leading the way for over ten years. We take your protection further because we know what it means for doctors like you. After all, we're deeply rooted in the medical world ourselves.
Results
Results our members count on for the health and prosperity of their practices
"I was not dropped from the suit until my defense attorney received the Medical Justice letter and called the plaintiff attorney and described the letter. A dismissal was filed with the court the next day. Thanks Medical Justice!"

Mike Ritter, MD, Emergency Medicine, CA
When our members call on us, we deliver. Medico-legal issues and challenges to your reputation often arise with the same urgency as medical problems. We respond quickly to our members' needs with genuine solutions to real concerns and pressing issues. From deterrence and counterclaim support to guidance in taking the right steps for the overall health of your practice, positive outcomes are our specialty.