The Challenge:
Ever see those employment listings for an entry-level position that requires "2 years of experience?"  How can you get a job that requires experience when you don't have any? What about qualifying for a home or auto loan with little to no credit history?  Building a reputation from the ground up can be a discouraging endeavor without help.
Building an online presence can feel much the same to providers during residency or beginning their own practice for the first time.
No Medical License = No Access to Medical Review Sites (Healthgrades, RateMDs, WebMD, etc…)
No Work History = No Presence on Business Sites (Google, Yellow Pages, BBB, etc…)
No Sites Online = Little / No Visibility to Prospective Patients.
One of our clients, who recently completed her residency, had a similar challenge. For the sake of privacy, we'll refer to her as Dr. A.
Dr. A completed her residency in 2018. She received the Outstanding Resident Award for Maternal and Fetal Medicine (2017 & 2018) as well as the Outstanding Resident in Reproductive Endocrinology and Infertility (2018). What a great start for a young medical professional! Unfortunately, there was little to set her apart from other providers in regard to her online reputation. How would perspective patients FIND, let alone choose, Dr. A for their care?
 The Solution:
eMerit provides our clients with the boost needed to establish legitimacy with perspective patients.
When our client began using Medical Justice's eMerit platform in July of 2019, there was little to no information online in the way of patient experience or recommendations for her care. However, with the strategic creation and promotion of online review profiles, combined with a consistent flow of patient feedback surveys facilitated by eMerit's platform, within a few short months (7/19 – 4/20) our client accumulated nearly 250 reviews across multiple rating sites with overwhelmingly positive ratings and comments. This would take years to achieve organically, if ever. But with this momentum, she's well on her way to achieving the goal of a robust and positive online presence.
The Outcome:
This puts Dr. A on the same trajectory as another one of our successful members. For the sake of privacy, we'll refer to this other, long-standing member as Dr. B.
We've included a map of Dr. B's online presence below, for the sake of comparison. In the first 18 months of her membership, Dr. B's online presence evolved from a state of invisibility to a state that we call the Center of Excellence. This means Dr. B's online reputation was defined by both a high quality and a high quantity of online patient ratings. These testimonials are spread across a variety of websites. Dr. B began working with our team in 2014 and has remained prominent and attractive online due to a consistent flow of new content facilitated by our platform.
Currently, prospective patients have the benefit of over 1,500 online ratings and comments with which to inform their decision to see this client.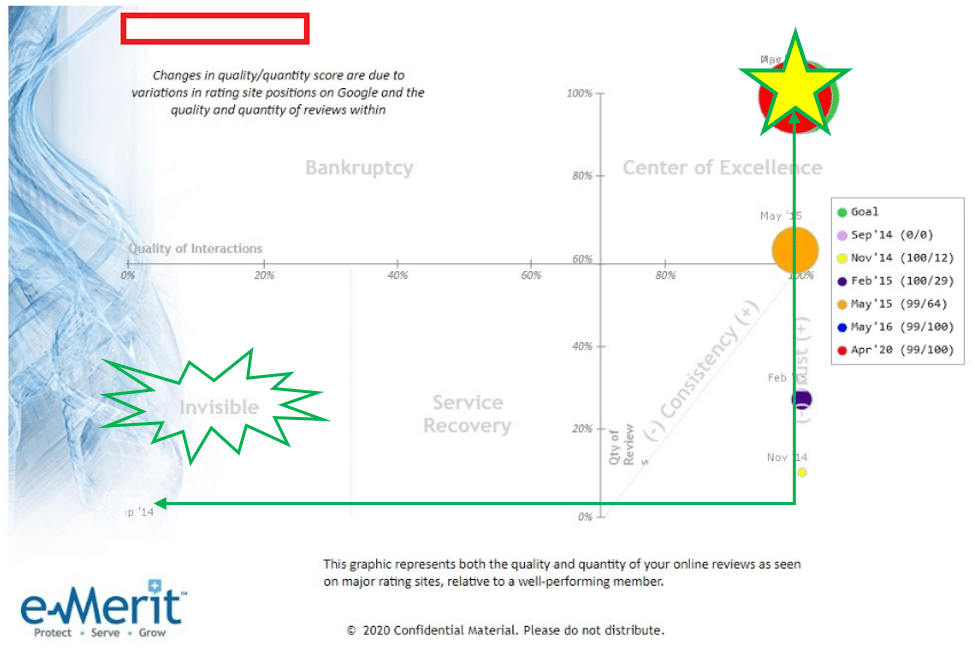 With our team of specialized experts, eMerit not only rehabilitates online reputations damaged by the chaos of the internet but also helps newer providers build their online presence from foundation to shingle. Have questions on where to begin? We'd love to help.