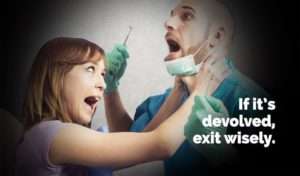 Medical Justice provides free consultations to doctors and healthcare professionals facing medico-legal obstacles. We have solutions for doctor-patient conflicts, unwarranted demands for refunds, online defamation (patient review mischief), meritless litigation, and a gazillion other issues. If you are navigating a medico-legal obstacle, visit our booking page to schedule a free consultation or use the calendar below. Medical Justice is a membership-based organization dedicated to serving doctors and healthcare professionals. 
We open with some advice. Dismissing a patient is challenging. Sometimes arranging a graceful exit is best for both you and your patient. This article discusses general tips.  Every case is different. When you do dismiss a patient, individualization is critical. Among other things, you must ensure continuity of care. If you are wondering when you can refuse to treat a patient, or terminate doctor-patient relationship, schedule a free consultation with our Founder and CEO, Jeff Segal, MD, JD. Medical Justice has helped thousands of doctors address patient conflicts and a bevy of other medico-legal obstacles. We are ready to help.
As you have likely heard, the relationship between a doctor and a patient is a contract. The patient consents to be treated and the doctor consents to treat.  In that purely legal sense, the doctor would therefore have an unfettered right to refuse their role. 
Of course, that is not actually so.  There are critical limitations on when a doctor may refuse to care for a patient.  
The first issue is understanding whether the doctor is already in a therapeutic relationship with that patient. Under the common law "no duty" rule, unless the physician-patient relationship has formed, the doctor has no legal obligation to treat. 
However, the converse is that if the relationship has formed there are strict limitations on ending it. So it is essential to understand what may create the physician-patient relationship. 
When a patient makes and shows up for an appointment and the doctor examines and treats him the relationship has obviously formed.  However, the relationship can form in ways other than these express acts.  
Courts and medical boards will look to whether the claimed patient could have reasonably assumed that they were a patient of that doctor. This is based on the fact that the doctor is positioned to assert by his words or actions whether he agreed to take the patient on. The more "medical" the patient's contact with the doctor's office is – not just signing in but filling out a history form and having it accepted by a staff member or meeting with an MA, for example –  the more the claimed patient can have relied on their being a patient of the practice even before they ever meet the doctor. There, the relationship is established through the office protocols the doctor set up and the individual's interactions with the medical agents of the doctor.  
The doctor may also be bound to a the physician-patient relationship by his interaction with third parties, either by contract or through providing consultation. The former occurs when the doctor is obligated, usually through their privileges agreement, to provide on-call services to an ER (which would also implicate duties under EMTALA) or to be an Officer of the Day for admissions in his specialty, or is part of a managed care entity that schedules patients for it (but just being on a panel).  These arrangements pre-establish a relationship to all patients the doctor may encounter in those roles. The latter occurs when facilities or other practitioners request a consultation on a patient.  When the doctor is consulted in a setting in which it is obvious that their opinion will be relied upon and can have harmful implications for the patient's care if given negligently, the relationship will be held to have formed in an implied fashion, even if the doctor and the patient in question never meet. 
If there is an existing physician-patient relationship then it must be terminated according to the statutory and common law requirements of the jurisdiction to avoid actionable abandonment.  Abandonment occurs when a patient in need of ongoing care is terminated by the doctor without adequate notice to establish care elsewhere. In general, this can be avoided with a letter stating the termination and offering 30 days of emergency coverage.  However, if the doctor is aware that that will be insufficient time or that there is no equivalent practitioner available due to issues like specialization or insurance coverage then that would constitute "constructive abandonment."  In that setting, the doctor may have to take additional steps, such as seeking an alternative for the patient or extending the emergency coverage period or, in rare cases, may not be able to terminate the patient at all.
A brief reminder – making these judgement calls can be challenging. Every case is different. But sometimes arranging a graceful exit is best for both you and your patient. If you are a doctor navigating the obstacles described in this piece, schedule a free consultation with our Founder and CEO, Jeff Segal, MD, JD. Medical Justice has helped thousands of doctors address patient conflicts and a bevy of other medico-legal obstacles. And when you are finished reading this article, spend time with its companion piece: Perfecting the Patient Dismissal Letter. With that said, let's return to the piece. 
The next issue is, if the doctor wants to terminate the relationship, what reasons need underpin that termination.   
The simple answer is that no reason is legally required unless the doctor is operating under a contract with a third party that requires a listed reason. Other than that, a doctor may refuse to see a patient for any reason or for no cited reason at all. 
Patient non-compliance or bad conduct that impedes the doctor's ability to render proper care, or a patient's demand that the doctor engage in care that the doctor believes is fruitless or harmful or exceeds the doctor's own expertise are all valid bases to refuse to treat.  The underlying issue is that the doctor is required to adhere to the Standard of Care and so may refuse involvement in care that falls below that due to patient actions / requests. 
A refusal to treat may also be stated from the start, either by closing to new patients because the practice is at maximum or by pre-limiting the scope of the care, as when a surgeon contracts with the patient for only the operation and the post-operative visits. 
However, there are also limits that must be borne in mind. 
Unless there is a state law to the contrary, although non-payment is a valid reason to terminate a patient, a patient cannot be refused care while still in the practice because they have not yet paid. This would actually constitute "internal abandonment." 
A doctor may also refuse to engage in care that he feels violates their religious beliefs, such as performing an abortion.  The set-off, though, is that they likely need to refer to another practitioner and must, if the case is an emergency and there is no available alternative, provide the care himself.  
Finally, the Americans with Disabilities Act precludes a refusal to treat a patient based on their disability unless the individual poses a direct threat or significant risk to the health and safety of others that cannot be eliminated by adequate precautions or reasonable modification of policies, practices or procedures.  
In summary, the right of a doctor to refuse to care for a patient is actually quite broad. That refusal encompasses objective issues that limit the ability of the doctor to treat properly. It also encompasses purely subjective matters that impede the smooth functioning of the therapeutic relationship. Refusal to treat is subject to the requirements that patients may not be discriminated against, either directly or through a pretext, and that a patient who is already established must not be abandoned, issues that all doctors should bear in mind when denying or ending care. 
[Medical Justice notes: If a patient terminates the relationship on his own, the doctor does not need to give 30 days' notice. The patient, free to choose what type of care he wants, has already moved on. If the patient has made such a move, document in your record.]
If you are a doctor navigating the obstacles described in this piece, schedule a free consultation with our Founder and CEO, Jeff Segal, MD, JD. Medical Justice has helped thousands of doctors address patient conflicts and a bevy of other medico-legal obstacles. Every case is different. Individualization is critical. We are ready and able to help. Schedule a free consultation with our Executive Team using our tool below.
Very enjoyable experience
Brittan Willimon
21:13 09 Jan 23
Totally worth it! I had an issue with a very large insurance company threatening to remove me from their network. Contacted Medical Justice right away. Within lass then a week, Dr. Segal had crafted a magnificent 60-page appeal! Insurance company kept me in network, which saved me a lot of hassle and headache. Worth every penny!
Barbara Wood
18:01 13 Dec 22
I have used emerit for 10 years and have been extremely pleased with their service. highly recommend to all medical professionals especially plastic surgeons. very responsive CEO and staff. thanks!!!
Neil Zemmel
13:56 13 Apr 22
When hiring someone professionally fortheir advice, the most important aspectfor me is their time that they give me todiscuss what I need to get the job done.Dr. Segal was always available whenever Ineeded to speak. He is extremelyknowledgeable, patient and kind. He hasthe unique perspective of the legalprofession from a doctors point of view.This is priceless in terms of understandinga Doctor's concerns.
Endodontic Group
00:38 31 Jan 22
I would say Medical-Dental Justice is a Level I Trauma Center for the legal matters of health practitioners. Your matters are handled STAT and in a professional and assuring manner. In a legal sense, they set you up with tools for preventive care, assist when there is an injury and handle the legal traumas. Rest assured that the legal injury will be minimized or they will rehab the situation a bring you back to legal health. No physician or dentist should be without this service...period.
Edward Kirsh
21:17 30 Jan 22
I highly recommend Dr. Segal for all doctors who would like to have a bullet proof practice and avoid unnecessary litigation and threat by patients. He is always available and punctuate with time. We have a very busy practice in northern California and Dr. Segal has been a unbelievable asset and success to run it smoothly. You won't regret his service.
Sani Aesthetics, M.D.
01:17 28 Jan 22
Medical Justice is always responsive and gets to solutions. We especially appreciate Josh P and his relentless drive to help us satisfy our customers. Their knowledge of the digital landscape brings us closer to prospective patients.
What's NEXT
15:06 16 Nov 21
Jeff and his colleague Josh were both very prompt and knowledgeable in helping me resolve an issue with Instagram. Recommended to any healthcare provider needing help online with social media.
Spencer Hawkins
16:37 12 Sep 21
Dr. Jeffrey Segal and Medical Justice are amazing! They helped me deal with a frivolous and false board complaint to my license quickly and professionally. I was impressed with the amount of attention and copious amounts of time they committed to resolving my case. Dr. Segal also helped greatly in advising me how to protect my practice and avoid similar issues moving forward. I'm fortunate to have found their services! While I hope to not have to deal with more frivolous complaints in the future, I feel better knowing that Dr Segal and Medical Justice are there to help me navigate through what may come.
Lisa Wagner
18:06 16 Aug 21
Dr. Jeff Segal is great at what he does! As a physician and lawyer he understands clearly the difficulty of practicing in this day and age. Having both backgrounds is his biggest strength in the medico-legal arena. He gives sound logical advice and is very responsive. I am glad that I trusted him with my issue which he solved by doing background research into the issue from other specialists. He approached the problem like a physician in a very methodical and detail -oriented way. I'm so happy to have found him! I highly recommend!!!
Nicole Basa MD
02:14 10 Aug 21
Medical Justice is the GO TOO for any medical provider.
Curt Litton
00:35 29 Jul 21
Medical Justice exceeded my expectations on delivery of professional services. Top notch professionals, only the Best, and advisors on every medico-legal area of health care, especially Dentistry, with the Great, Vince Monticello, DDS, MBA, JD, on-board. By far a great investment. I enjoy doing business with Jeff and his Outstanding Team!
I've now been a subscriber and client of medical justice for over a year. Dr. and attorney Jeff Segal has been helpful on several occasions. He has guided me through both potential patient issues as well as recent HR pandemic concerns. He along with the Medical Justice team have given me reassuring legal advice that allows me to proceed with confidence through these difficult times. This is one of my best investments in business and personally.
Walter Tom
16:06 25 Jul 21
I cannot give enough thanks for Medical Justice's existence! It is a company that fills such a highly needed niche' in medicine – especially aesthetic medicine. And it was founded and continues to be led by a visionary, Dr. Jeff Segal. I admire his drive and envy his intelligence. He first completes a rigorous Neurosurgery Residency. That by itself deserves tremendous kudos from anyone in the medical universe. Yet, he eventually goes back to obtain his JD. Yet what he has done in blending those two degrees into an amazing entity, Medical Justice, is nothing short of phenomenal.I was an early adopter of Medical Justice, and all that it provided for me as a surgeon and a business owner, as I am in my 12th year (this year being 2021) of being a member of Medical Justice. Throughout those twelve years, I have leaned on their team in helping maintain a fair and hard-earned online reputation when unfairly attacked. Also, Dr. Segal has always been personally involved with assisting me in resolving conflicts with difficult and unreasonable patients. He has always been only a phone call away, and prompt with his response.What I have especially appreciated is in my discussions resolving these occasional issues with patients over many years, Jeff seems to possess a third therapist certification as a compassionate, empathetic peer that understands my hurt and frustration. He has a way through the phone to put his arm around me, making me feel he sympathizes with my hurt and frustration, and together we will get through whatever issue, and the sun will rise in the morning. He then produces what he promises, as he has threaded the needle to resolution more than once for me. He feels like the big brother I never had that is there for you with honest, realistic guidance to amicable conclusions, when called upon.I just hope I retire before him. I can't image practicing my specialty without someone like him, as well as his amazing team that he has gathered, that has and continues to have my back. - Dr. Burke Robinson, Robinson Facial Plastic Surgery
Burke Robinson
19:17 14 Jul 21
Jeff Segal, MD, JD was a tremendous help to me when battling a frivolous and retaliatory complaint to the State Medical Board. Jeff and the Medical Justice team fought immediately and tirelessly to clear this absurd complaint. It was validating, vindicating, and made me have hope again to practice medicine. It renewed my faith in the justice system and made it a pleasure to practice medicine again. Skillful. No - Masterful. There is really nothing that can replace the knowledge of an MD/JD or DO/JD to defend physicians. They were absolutely in my corner. Additionally, Medical Justice found negative reviews that I was not aware of and helped me address those concerns. Well worth every penny!
Terri Bowland
16:32 14 Jul 21
I cannot recommend a more professional or effective and caring team to help in legal matters which are delicate and require a high level of care. Dr. Segal is one of the most intelligent, thoughtful, and efficient attorneys that I have had that pleasure of working with. He was always available and attentive and demonstrated genuine concern and compassion towards making sure that all matters were handled with the highest level of efficacy. I highly recommend Dr. Segal and his team to any physician or practice, they will not disappoint!
Kriti Mohan
02:15 15 Mar 21
Dr. Segal is kind, professional, and a complete genius! I am so glad to have found him! I would recommend him hands down for anyone needing legal assistance!
Samantha Britt
19:57 28 Jan 21
I am an oculofacial plastic surgeon who has been a member of Medical Justice for well over 10 years. It is a pleasure for me to be able to recommend their services to others.We have utilized the Medical Justice consent forms for operative patients throughout this time. It gives me peace of mind to know that any expert witnesses who may be called to give testimony against me are from my specialty. It also gives notice to any potential plaintiff firms that I have not only my malpractice carrier but also Medical Justice working for me should any claims arise, and puts them on notice that any frivolous claims can be in turn be litigated by me against them and the plaintiff.Does this translate to less claims or better results if claims are brought? I can only say that in 30 years of practice I have had a handful of patients request records be sent to plaintiff attorneys, and none have become suits.I can and have offered my highest recommendation for this firm and their services. Their services and client support are outstanding, and are especially beneficial when that letter for your records comes in. To have them on your side is a comfort we can all use.
Alan Brackup
15:01 07 Dec 20
The Medical Justice team have a wealth of knowledge and experience in this space. I highly recommend them to medical professionals and practices of any size. They take a highly responsive, professional, practical and no nonsense approach which has proven to be highly effective.
GenXovite Pro
15:42 23 Nov 20
As a physician, reputation is everything. This is why I've trusted Emerit for years! Their unmatched ability to handle my clinic's online reputation has helped us earn more credibility therefor increasing our patient base. They also create custom surveys for patients along with weekly reports so we can provide better treatment. These little things give us the ability to address certain areas of the practice and fix them immediately. I would highly recommend that healthcare providers to at least consider Emerit when considering an online reputation partner. I know I'm glad we did … Robert Odell, MD, PhD, Neuropathy & Pain Centers of Las Vegas
Robert Odell
17:06 13 Nov 20
I recommend Medical Justice and its founder Dr. Jeff Segal with great enthusiasm. As medicine evolves the private practitioner has become increasingly more isolated. I signed up with Medical Justice so that I would have a sound legal back up for clinical business decision making. My private consultation with Dr. Siegel, neurosurgeon and attorney was insightful. His team, medical justice has already supplied us with appropriate patient forms to help me to continue practicing medicine with confidence. They have already initiated our web presence reviewing with recommendations.Dr. Segal was also readily available for a specific case consultation, and I appreciate his counsel and direction. The peace of mind and collegiality is well worth the investment in Medical Justice.
Walter Tom (Dr Walter Tom)
18:56 05 Nov 20
Have had the help from Medical Justice for about a year now. They are very responsive and always available to answer questions and help with any practice issues I may have. The most satisfying aspect of their assistance is in obtaining and posting patient reviews on various sites. A big help in that
Jonathan Lebowitz
00:50 03 Nov 20
In this era of digital feedback and punishment through fraudulent reviews. I wouldn't leave home without them!!
David Pincus
15:15 02 Nov 20
After a complete nightmare of a frivolous suit in 2002, aided and abetted by the sheer avarice of a competing surgeon right across the street (stunningly, a $2.1 million award over a pea-sized suture granuloma; when it went to the state medical board they dismissed the case as "groundless"), I was advised to join Medical Justice.What a wonderful team! Everyone there has been immediately available for any questions or concerns that have come up over the years. Just having Medical Justice's cover letter stating that one's a member will be enough to stop a frivolous threat dead in its tracks — and that alone makes the eminently reasonable annual fee worthwhile many times over.Knowing that Medical Justice "has my back", and knowing that because of these fabulous people, the worst and most profoundly mind-bending experience of my life would never be allowed to happen again has given me the peace of mind to continue and even enjoy and relish my career over these many years.I can't say enough about Dr. Jeff Segal, Mike Odden, Wendy Cates and the rest of this amazing team! Joining Medical Justice absolutely will be one of the best decisions of your career. How about 10 stars!⭐️⭐️⭐️⭐️⭐️⭐️⭐️⭐️⭐️⭐️
Holly Barbour
18:39 05 Mar 20
We have been MedicalJustice members for over nine years, and this is a service that has been priceless for us, and our facial plastic surgical practice. Ninety percent of our new patients cite the Internet as their source of referral, so for us, our internet reputation is priceless. Plus my kids see what's on the internet about our practice. MedicalJustice scours the internet for any online posts about your practice, good and bad. Even if you are able to do things exceedingly well, it is unlikely that you will be able to deliver impeccable care with exemplary bedside manner 100% of the time, have the perfect staff, and count zero competitors. And thus, unfortunately, being defamed on the Internet is an occupational hazard.I recommend MedicalJustice without reservation to any medical practice, since nearly all patients will google you before calling for an appointment. Everyone at MedicalJustrice from our advisor Shannon, to the CEO, Dr Jeff Segal, is knowledgeable, friendly, and genuinely glad to help physician practices like ours. I am grateful for all they have done to help our "mom and pop shop" thrive, and navigate unchartered waters on the internet. MedicalJustice has been outstanding for our practice in these situations :1)Reputation management. The American Academy of Facial Plastic and Reconstructive Surgery recommended MedicalJustice to all members in 2009, and after we got on-board, we were surprised to see more than a few negative internet reviews and comments about our practice. Frankly, I do not have the time nor desire to actively surveil the internet about our practice, but someone NEEDS to. If you don't read it, someone googling your practice will.2) Dealing with negative reviews in a safe and HiPAA compliant fashion. Some internet "specialists" recommend ignoring bad reviews, but for us, that philosophy is not cool. 12% of patients who request rhinoplasty have BDD, and as of August2018, there is no reliable method for ruling this out preoperatively. The small minority of unhappy postoperative patients may post on multiple sites, and have the longest and most painful words. MedicalJustice has helped us A LOT in this arena.3) Dealing with internet defamation.4) How to manage the disgruntled patient, and more importantly, the "difficult" scenario where you don't know what to do, and it's not malpractice.5) How to manage patients threatening to harm themselves or others.6) How to manage patients demanding a refund.7) Advice with patients threatening to sue.8) Advice with copyright infringement.9) Obtaining positive reviews from our patients with eMerit.If any physicians wish to reach out to us for any questions, it would be our pleasure. Thank you. Dr Joseph
Eric M. Joseph, M.D.
19:17 09 Mar 19
Great doctor.My neck pain is gone. The doctor explained everything in detail. He was patient and respectful.
Sushil Basra
01:57 31 Jan 19
No medical professional should be without this service! I have been a long time member and will never give up my membership. I have never had such clear and concise solutions to common issues, education regarding what I need to do and how to be best prepared for common issues that arise. Whenever I have had a question, I get immediate responses that are clear, concise and of great value! Honestly - the first time you run into a difficult situation is not the time to realize you SHOULD HAVE had this service. You need to be aware, and appropriate- this service is absolutely the best resource you could want for you to meet your obligations, as well as be prepared for common issues. Not only has Dr Segal experienced both sides of many of these issues- he is brilliant, and condenses issues down - allowing you options that allow for the smoothest possible outcome for all involved. I honestly could not recommend it more!CR MD
A must-have for every physician. Their expertise in medical malpractice defense, and internet reputation management, is unparalleled.
Armond Levy
01:27 07 Oct 18
HIPAA is complicated and always changing. That is why I recommend Medical Justice to all my clients. They are knowledgeable and trustworthy.
Jen Longtin
22:58 29 Sep 18
Impeccable service and reputation from the CEO on down. Helped me grow my practice by vastly improving the quality of my online presence. In addition, I am now insulated from the occasional anonymous and damaging online reviews. I see many additional new patients who have "googled" me and have read my numerous outstanding reviews. In addition they have helped protect me from frivolous law suits while readily providing expert legal advice. In this day and age, in my opinion, every physician needs Medical Justice standing behind them. Thank you, Medical Justice!
I have partnered with their organization while working in two separate companies and they have continued to provide outstanding support, superior service and communication and remain ever available. I would not practice medicine without their support.
Christina A
15:16 13 Sep 18
We have been working with Medical Justice and Emerit for years. I would highly recommend them. They have been very responsive to all of our needs in our practice. They have guided us on how to get our patients to share their experiences online Dr. Segal has given us honest advice over the years and he has never steered us wrong. Highly, highly recommend Medical Justice!
Medical Justice is the real deal. They are professional, knowledgeable, timely, and their rates are beyond reasonable. Put all of that together and they have become an invaluable asset to our practice.
Jackie Foster
17:38 06 Sep 18
Our surgical practice joined Medical Justice and eMerit many years ago and it has been an invaluable resource and support. Jeff Segal, the founder, is a surgeon and an attorney who understands the challenges that physicians face today. They have been our advisors, mentors and dispensers of wisdom for any and every issue that we presented to them as well as in growing our practice. I can't imagine running our practice without them all of these years.
Bonnie Pontell
14:48 06 Sep 18
EXTREMELY beneficial. The ratings have done more for my Google search rankings than my website. Worth every penny. It is 2018--get on board with your online presence!
Scott Phillips
14:13 06 Sep 18
I have been a client of Medical Justice for many years. They provide a fantastic opportunity for Healthcare providers to defend against frivolous claims and to control their reviews using the eMerit platform.The service and the reviews have been extremely valuable to my practice, my social media presence and ratings as well as protection against some false claims over the years.They are always available, responsive and timely in their assistance. Dr. Segal offers a wealth of resources, insight and legal advice due to his vast experience in this venue.I highly recommend this service for anyone with a medical or dental practice.
Semira Bayati
16:27 05 Sep 18
Dental Justice has helped us manage challenging patients who are impossible to please. Let them show you that there is a better way than being frustrated.
Mitchel Friedman
14:53 04 Sep 18
Worked with Dr. Jeff Segal and his team for many years, I absolutely trust them when it comes to protecting our practice and team. I give my highest recommendation and I sincerely appreciate your thoughtful approach as leaders in the industry ( :
Rich Castellano
03:40 04 Sep 18
I have been a member since its' inception and can recommend the company without any reservations whatsoever. I benefited from their online review services, their involvent in preventing a frivilous malpractice threat, and their pro-active legal seminars. Thank you Dr. Segal for all your efforts.
Michael Prater
21:55 02 Sep 18
It only took one reading for me to become a big fan of Leonard Berlin's.Who was Leonard Berlin?He's the radiologist who countersued a plaintiff who tried to make a fast buck by frivolously suing him. When I finally met him, I told him that I'd been following what he was doing.Berlin was the first MD I knew who fought back. When I read about Medical Justice, it was clear to me that in case I got sued frivolously, I, too, would be able to counterpunch.Raised by a pair of criminal lawyers in New Orleans (yes, really), I pretty much had a (legalistic) chip on my shoulder from childhood. Medical Justice welded it there. Instead of being a 98-pound weakling in the face of a pseudo-legal assault, it made me a Charles Atlas kinda guy.No fear after joining up. I was surprised at how reasonable the rates are.
Joseph Horton
19:00 02 Sep 18
I have used Dental Justice for the past several years and have always been happy with their service. They are professional and timely. Dr Segal has been great with his knowledge, advice, services and timely responses. I would highly recommend them to anyone in the dental or medical profession.
Shane Claiborne
14:28 31 Aug 18
I have been using E Merit and Medical Justice's services for the last nine years. I have found their helpful feedback to be of tremendous value to me and to my practice. I am extremely grateful to Jeff Segal and his entire team for their thoughtful and professional help. You will not be sorry if you give them a chance. I don't know anyone who has not found them immensely helpful or who has stop using them once they have engaged their services.
Joseph Stern
01:43 30 Aug 18